Keyport Slide 2.0
by Dan Saltman
Related Gear:
Keyport Pivot and Slide 3.0 All-in-One Key Organizers
Suit Up, Gear Up: How to Everyday Carry Like a Gentleman
Keyport MOCA Keychain Multi-tool

One of the most exciting development in the EDC world has been the tons of successful kickstarter projects which are solving real world demands for more efficient items.

One of those items is the Keyport Slide 2.0 - If you remember, the original Keyport Slide was a very sought after key-holder that first broke onto the scene nearly 7 years ago.
Much has changed since the original vapor-ware product came and went and we are now left with a small sexy device with the base price only at $29 (but when fully loaded up with blades costs about $100)

So whats new with the 2.0 model besides the price reduction? First and most apparent is the replacement of stainless steel with a lower weight polycarbonate housing. This should in theory increase the strength of the device while also allowing for multiple color options.

Also new is the ability to have customizable side plates which can also hold a transponder chip. There are multiple colors available for this as well. The spinner cap is also now standard on the keyport slide 2.0

Ive been playing with the keyport for the last few days and I dont have any complaints so far. The included LED light, pen and USB jump stick are nice additions to this item and also let me ditch some of my other EDC items.

I would love to see in the future the addition of a flathead screwdriver as well as more integration with car keyfobs. While that might be a few years away, I am told that this is a top priority for keyport moving forward. While its slightly annoying to have to carry both a keyfob and a keyport, it still blows away the alternative of a bunch of loose keys.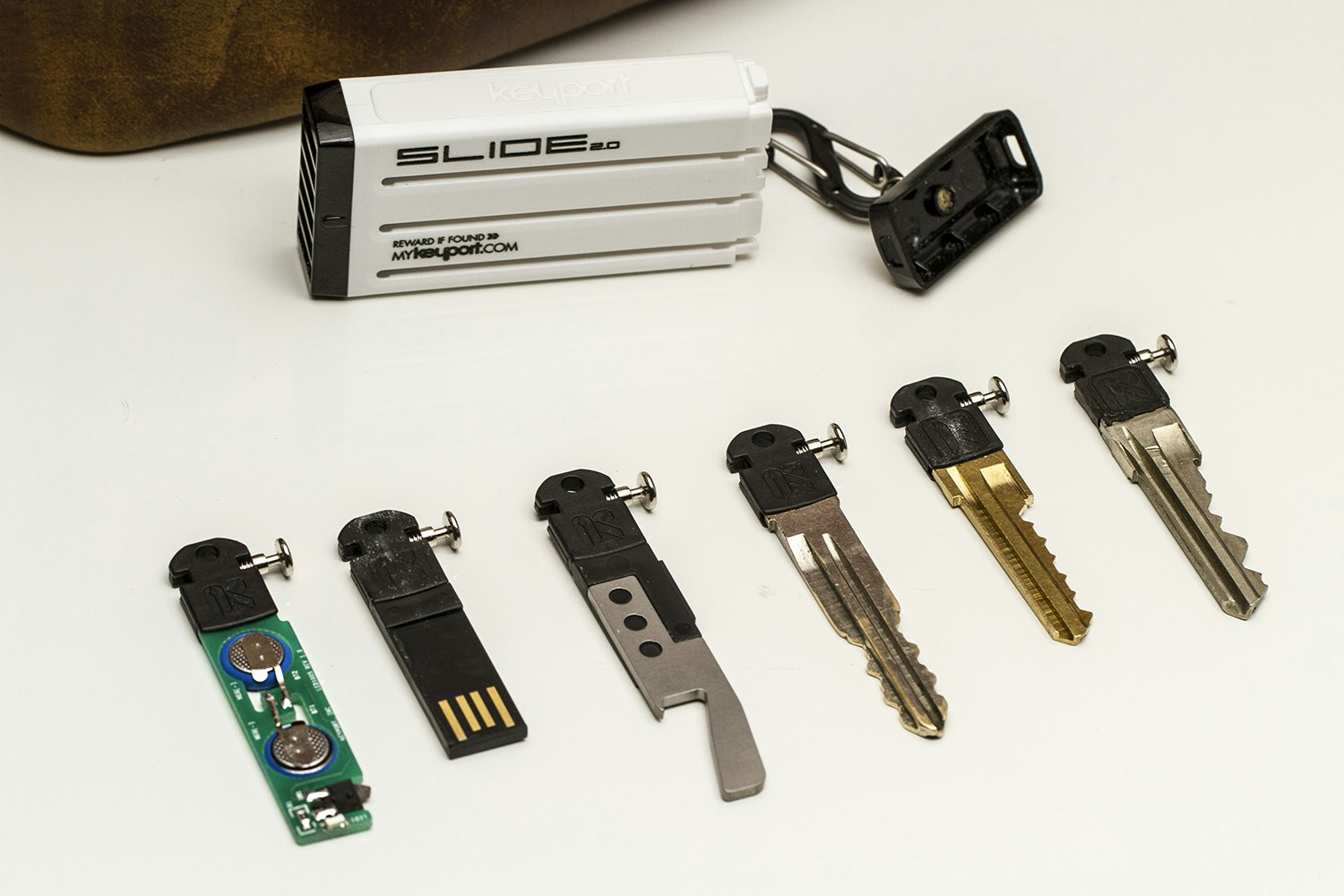 The Keyport Slide 2.0 is without a doubt the best option on the market right now for holding your keys. The addition of more blade options as well as more customization will surely only improve on this product moving forward.
Ready to grab your own? EDC has put together 2 options for you:
If you can wait until January 24th you can save around $40 off the MSRP by going through the group-buy site Massdrop- The link is http://dro.ps/keyport-slide-2
Roll the dice and enter in our giveaway below to grab a free Keyport 2.
---
---
---